Before and After

Gus ~~ On the left is Gus the day he was pulled from Animal Control. On the right is his miracle makeover from Little House of Dogs in Kirkwood. Round of appaws for their kindness, expertise, and donation of grooming services when a new Sheltie comes into rescue!
* * * *
Brady came to us through animal control on the day he was scheduled to be euthanized. He was extremely ill with a severe upper respiratory infection, and badly infected bite wounds to his head and lip where he had been attacked by other dogs while in a gang pen at animal control. After emergency surgery on his face, and several weeks on antibiotics, Brady began to feel much better.

The third photo shows a healthy Brady posing before his adoption. The picture on the far right is one year after his adoption. He is now competing in AKC obedience trials!!!!
* * * *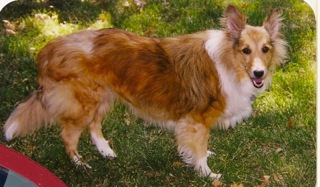 Heidi came in with a low thyroid that barely registered in her blood work. Typical of a low thyroid dog, her fur was falling out, what was left was oily and smelly, she had staph infections all over her body and in her ears. She also had a hip that was so bad, she was unable to put any weight on it. After hip surgery and put on thyroid medicine, she doesn't look like the same girl that came into Second Chance Sheltie Rescue!

* * * *
Samson (aka Sammy) and his sister Delilah came to Sheltie Rescue in August of 2003. They were born in a puppy mill. Because neither pup could be sold to a pet shop, (Delilah was born deaf, Samson was cross-eyed, vision impaired, hearing impaired and missing part of his tail) the puppy mill planned to simply "dispose" of them. Luckily, they had a guardian angel watching over them and were rescued from the mill and found their way to Second Chance Sheltie Rescue. Due to their young age, the lack of veterinary care, and lack of good, nutritious puppy food, their immune systems were very weak and this made them susceptible to illness. As a result, both dogs had very severe cases of demodectic mange. They had bald little heads, feet, legs and tails! (As you can see, they were pretty ugly!) They would require lots of TLC, vet care, good food, and socialization if they were to ever find forever homes.
After multiple trips to the vet for "dipping", and lots of quality food, love, and care, they began to thrive. Their hair began to grow back and they were full of that "puppy energy". Delilah found her forever "mom" and was adopted by Melissa Kaler on November 7, 2003. Samson had a bit more trouble finding a home. No one seemed to want the cross-eyed, stubby-tailed little guy. Nobody, that is, except for his foster mom and dad!!! Yep, you guessed it! Sammy was adopted by his foster parents who admit that he was definitely a keeper and they just could not imagine life without him. These days he is affectionately know as Cyclone Sammy.
Sammy in 2007!
Cyclone Sammy, RA, AX, OAJ, and CGC
* * * *
Harley -- Abandoned in his own backyard in Springfield, MO for a year after his owner had committed suicide. Neighbors brought him food and water, but not on a consistent basis. After going without water for days on end, he had learned to drink from puddles when it would rain, and would continue to do that after being rescued for fear of going without again.
* * * *
Willow -- Rescued by the Humane Society of Missouri in the Douglas County puppy mill bust. Little Willow's right front leg was severely damaged somehow at the puppy mill, and had curled up against her little body -- totally useless. Our vet said the best thing to do was to amputate it. She recovered and now is the boss at her new home!
Before
After
Willow and new little brother, Trevor
* * * *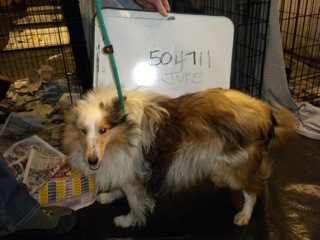 Before After
Juke came to the Humane Society of Missouri from a hoarder. The HSMo called SCSR and asked us to take him along with a couple of other Shelties. Juke is blind in one eye, but he has such a wonderful personality you don't even notice it! He is now in a loving home and being spoiled daily!


Page created for SCSR
by Janice Mitchell